Rectangle Area Calculator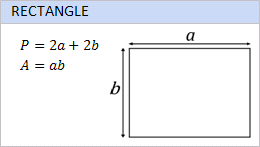 Our area of a rectangle calculator can help you find the area of a rectangle without the need to remember which formula you need to use for what shapes. All you will need for this calculator is the length and width of the rectangle.
A rectangle can be defined as a shape that consists of four sides and four right angles. The area of a rectangle calculator can help you with your geometry homework or this would be a common calculation for finding out how many square feet your yard is or the square footage of a room you are going to carpet. Whatever your need our calculator can help calculate the square footage of a rectangular shape. This calculator can be a great tool to help you with your homework, but we highly recommend you learn the formulas associated with this shape so you will have a working knowledge of it for an exam. To use rectangle area calculator simply enter the length of the two sides and our calculator will calculate the area for you.